It's an understatement to say that a woman's handbag is more than just a purse to her- it's her portable life packed in a basket. Consider this: whether you're going to the grocery store or getting lost in the midst of a huge metropolis; as long as your bag is close by, you have everything you need. With that, Beauty Insider has put up a list of the many types of bags you'll need in your life for any style and occasion!
As a woman myself, I pride myself on my handbag collection. Unlike men who simply pick up their keys and wallet before stuffing them in their overly sized pockets- we girlies don't share that luxury. When I leave my house, I need something that can help me bring my keys, purse, makeup bag, wet wipes, power bank, etc, around.
Besides, whether helpful or not, it's a highly flexible item that you can use to easily dress up your clothing. But hold on to that thought: how are you going to browse for bags if you have no idea what you're looking for? We've broken down the main sorts of bags every woman should have in her wardrobe for this season and beyond, so you don't become overwhelmed by the countless possibilities.
The Bags That Everybody Needs
1. Saddle Cross-Body Bag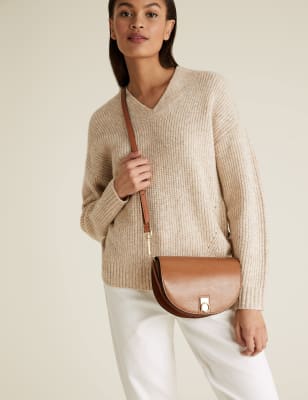 The name of this bag comes from the traditional saddle worn on the back of a horse; it was named for the original reason for which it was designed: to carry a few essential items when riding a horse! However, after a few more refined makeovers and sophisticated designs, the saddlebag has become a must-have fashion item. A saddlebag is distinguished by a front flap that folds over and may be attached with a clasp. They're generally tiny and have lengthy cross-body straps on them.
2. Hobo Bag
A hobo bag is generally big that has a slouched body in a crescent form and a long strap to be slung over the shoulder. Additionally, it is made out of a soft, elastic material that makes it resilient to being well used. When a hobo bag is placed down, the soft material tends to droop.
Moreover, it generally includes one large pocket with a single zipper and is called from the bindles that homeless people used to carry on a stick. Hobo bags are still fashionable in 2021, with a variety of sizes, shapes, and materials available.
3. Shoulder Bag
The shoulder bag, often known as an everyday bag, is the most practical of the bunch. Furthermore, each brand has its own variations, making it even more difficult to avoid purchasing multiples from different brands. But, hey, we're not whining, are we?
This is a casual bag that is designed to be carried on one shoulder and has thinner and shorter straps than a tote bag. Shoulder bags come in a variety of shapes and sizes and come in a variety of styles.
4. Tote Bag
Every lady needs a dependable tote bag with plenty of storage capacity that is also quite pleasant to carry. A tote bag is a large, unfastened bag with two parallel shoulder straps on either side, for those who don't know. It's a great bag to have on hand for any situation that requires you to carry more than a few items, whether you're going shopping, to a class, or to work.
5. Satchel Bag
A satchel bag is similar to a soft-sided briefcase and is another beloved classic. It's a huge bag with a loose sack attached to a pair of straps that are generally used for informal events. Moreover, traditional satchels feature a long strap that may be worn diagonally across your body.
However, recent bag trends have seen a number of modern variants with minor changes to the fundamental shape. Satchel bags have a rectangular body and a flat bottom, making them roomier than your usual handbag.
The Bags You Should Have For Practical Needs
1. Duffle Bag
This one doesn't need much explanation. This bag is more of a unisex carry-on than a women's handbag. However, there are shapes and models designed particularly for the latter.
The name of this bag comes from Belgium, and it refers to the material that was used to manufacture it. Moreover, a duffel bag is a big, cylindrical bag with two straps and rounded ends that are commonly used to transport fairly heavy stuff, such as going to the gym or on a short trip.
2. Weekender Bag
The weekender bag, as its name implies is designed for short trips such as weekend getaways, and it has lately gained popularity. It's really roomy, and it usually comes with a couple of short straps as well as a long, broad adjustable strap. It looks like a hold-all bag with an open-top, but it's generally made of a material like classic leather or printed canvas. I love bringing a weekender for my avid addiction to staycations!
The Ones You Need To Complete Your Style
1. Minaudière
While a Minaudière is primarily a women's purse- it also functions as a piece of jewellery. It's a little box handbag that looks like a clutch, but the Minaudière version will have heavy decorations or intricately embroidered fabric. They're designed to be worn with glitzy dresses like those you'd wear to a wedding, party, or black-tie occasion.
2. Clutch
A clutch is a tiny, flat handbag with no straps or handles and a top sliding clasp that is a must-have for dressier events. This is the bag you use for dates, weddings and formal balls. In the area of women's clutches, there are a startling number of shapes, forms, and designs to choose from. It's made to be held in the hand or carried under the arm, with just enough room inside for tiny items like cash, cards, compact makeup and keys.
3. Baguette Bag
It's a tiny, compact handbag that initially appeared in catalogues of Italian fashion house Fendi in the late 1990s. If you're a fan of Sex And The City (like me), you've undoubtedly seen Carrie Bradshaw rocking her look by carrying a baguette bag. A tiny strap-like handle is usually included with this compact shoulder bag. It's 2021 and this baby is at the height of her popularity as a trendy statement piece.