There's a reason why jewelleries were dotted as a girl's best friend. Wearing a simple white tee, blue jeans and splashing a few rings on the finger and dangling necklace around your neck is enough to elevate the look altogether. As someone who loves mix-matching jewelries with eye-catching outfits, I must say that jewels are considered to be the final touch when it comes to styling. Of course, finding the right jewels can be a challenge, especially with so many brands producing the best assets of their own. Pandora—on the other hand, was known for its devoted, unique, and conspicuous collection.
From their famous bracelets, charms, earrings, necklaces and rings—there's a reason why this sparkly brand attracted a lot of loyal fan base who outspokenly profess their love for this brand. Due to their timeless vigour, affordable prices and high-quality pieces. We're here at Beauty Insider endorsing everyone to have at least one piece of jewelry from Pandora, even if it comes in the tiniest form, because they're totally worth investing in, especially their rings! Whether you're a newcomer, or looking for an addition to add to your never-ending Pandora pisces collection, you've come to the right place. Pandora rings are mostly made out of high-quality sterling silver designs that you couldn't find anywhere else. Take a look at the list down below, and be prepared to be charmed with the beauty of its sparkle.
Get To Know Pandora
Pandora's founder, Per Enevoldsen, a Danish businessman, first established the jewelry shop back in 1982 in Copenhagen, Denmark. Slowly, the brand emerged into an international sensation, marking its name all over the world. Couple of years later, Per Enevoldsen decided to manufacture Pandora jewelry based in Thailand, this is how they managed to offer an affordable price range to its mass market customer. In the 2000, their famous charm bracelet made its debut which allowed customers to customize and personalized their own jewelry with combinations of charms. Verified in different sizes, styles, designs and colours, every piece of charms consists of bedazzled stones, motifs and eye-catching gems. How can one not fall in love with these splendid features? The bracelet charm soon skyrocketed in the fashion and jewellery industry, making it one of Pandora's standout signature products. Now, Pandora sales boost over more in 100 different countries and six different continents.
The Quality Of Pandora Rings
When it comes to the quality of its jewelry, Pandora brand uses only the top notched, high-quality pieces only. With arrays of different shapes to choose—diamonds, quartz, pearls, organic gens, traditional Murano glass, even man-made stones. You can expect to be served with items that consist of 92% silver and 10% copper. Almost 88% of their production came from recycled sources which makes Pandora an environmentally-friendly brand. Moreover, Pandora also uses rare black rhodium plating to refrain its sterling silver pieces from rusting and tarnishing. As for their gold collections, which are made up from 14k yellow gold, their famous two-tone jewelry collection uses sterling silver and 14k rose or yellow gold. Their Pandora Shine collection however, was made with a spectacular coating of palladium and a layer of 18k gold. Oh, and before we forget, one of the most respectful features of Pandora is that they strain away from the use of nickel, meaning they're suitable to be worn for every skin concern. If you're easily allergic from jewelry wearing, you no need to worry about Pandora. They're suitable for everyone at every age.
Can You Shower Or Swim With Pandora Rings?
Yes, yes, and yes. You can simply wear Pandora while showering or swimming. I've tried wearing Pandora almost on every occasion, and let me tell you they did not rust. However, keep in mind not to overly-exposure your Pandora jewelry around water or outdoor activities to keep them safe from stretching, or for its gemstones to lose their shine. Make sure to always keep your Pandora items safely in their bags or or box. As much as they are made up from high quality materials, do note that each gem will lose its shine if you don't look after them properly. Here's a little advice, if you're wearing lotions, make sure to let your lotions dry for a while before putting them on. The mixture of lotions and silver does not go well together.
Types Of Pandora Rings
1. Pandora Birthstone Beaded Rings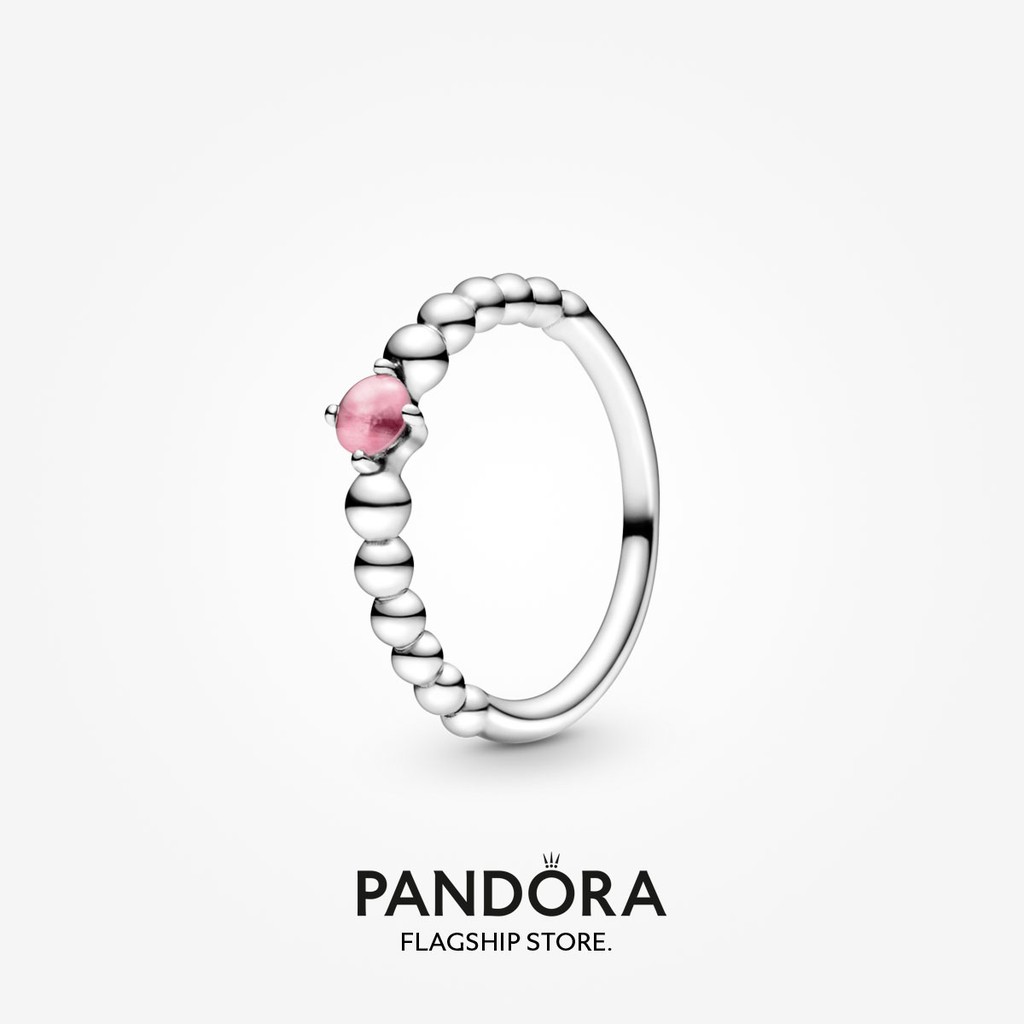 For those who love to represent their birth month or birthstone, this Pandora Birthstone Beaded Ring is perfect for you. Consists of 12 different gems sitting pretty in the middle of each ring, shining boldly around the silver-stack round piece.
Where to buy: Pandora SHOPEE
2. Pandora Sparkling & Polished Lines Ring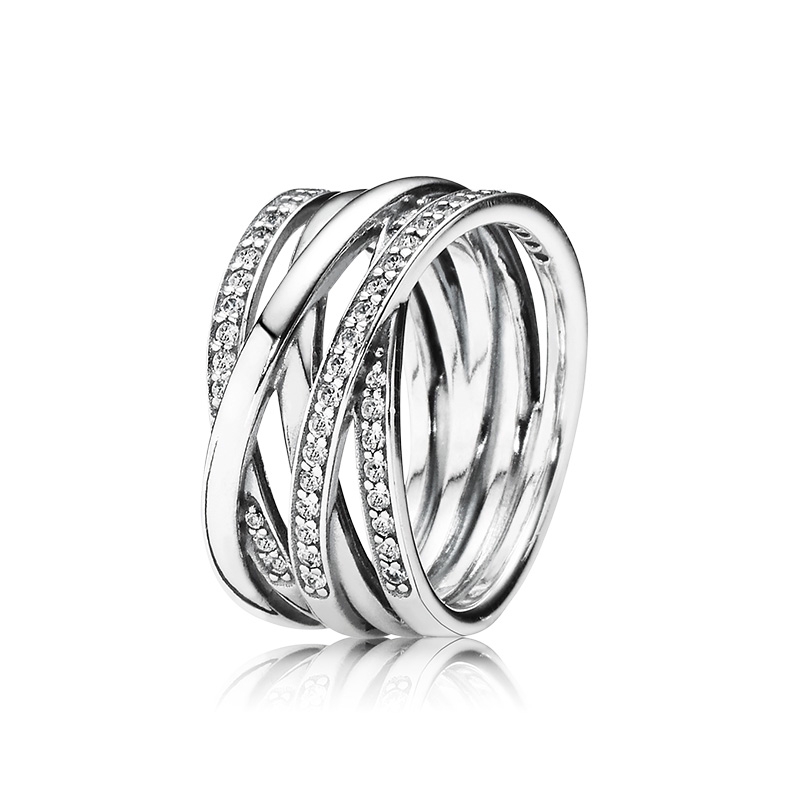 Big and bold ring lovers, this Sparkling & polishedLines Rings is perfect for you to wear and pair around even with the simplest outfit. Adorned in a classic silver metal, this ring will look perfect hugging your fingers on every different occasion.
Where to buy: Pandora SHOPEE
3. Pandora Clear Sparkling Crown Ring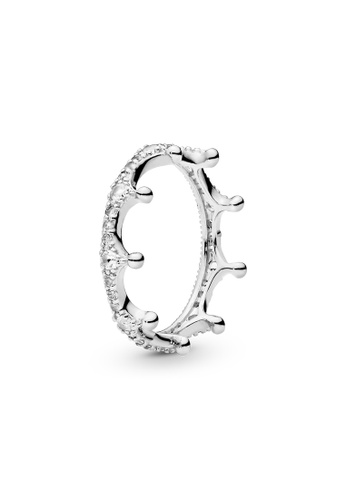 To you girlie who loves making a statement and a true fashionista, this Clear Sparkling Crown Ring is totally adorable for you to wear everyday. If you're looking for a perfect gift for your bestie or girlfriend, we suggest this ring. After all, what's the best feeling than reminding a girl that they're a total queen?
Where to buy: Pandora ZALORA
4. Pandora Multifaceted Ring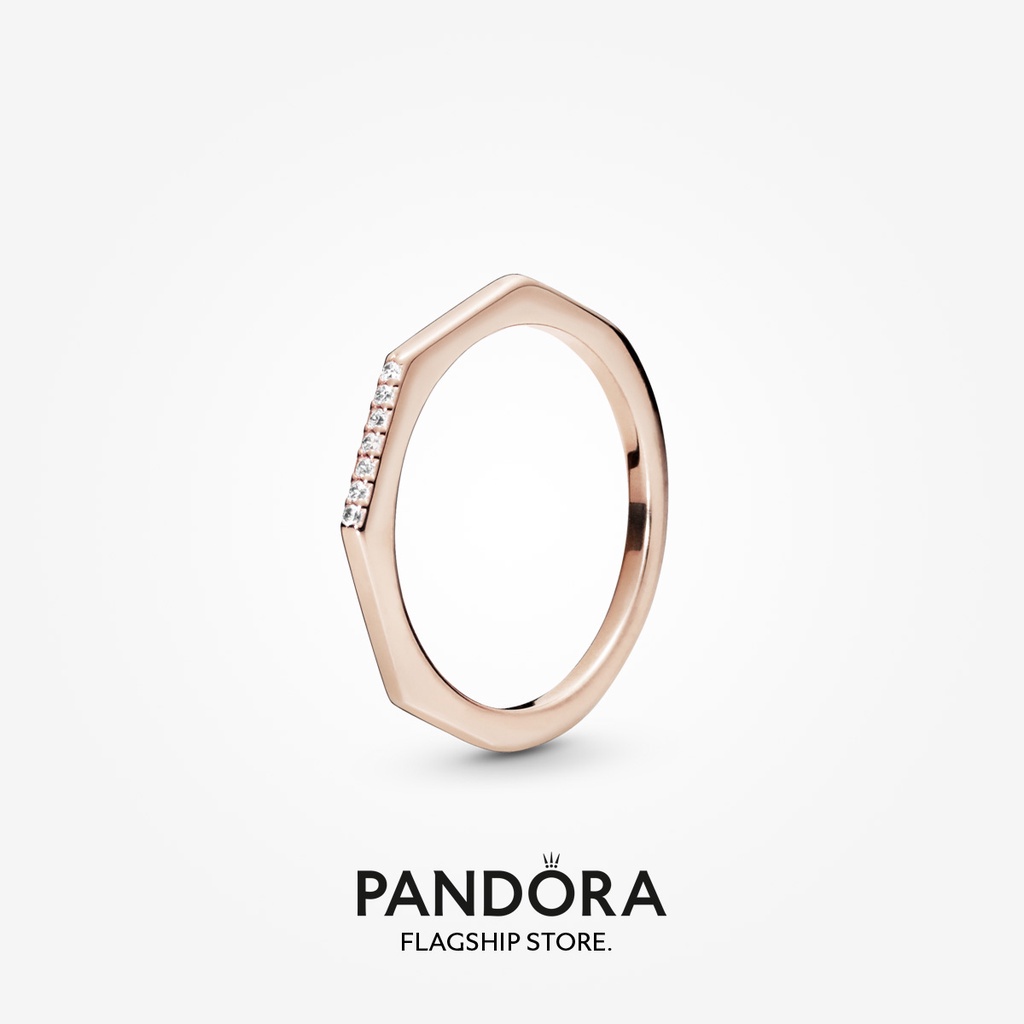 Minimalism peeps, assemble! Made specially for you minimalist lovers, this Multifaceted Ring looks elegant, clean and straightforward. Another perfect ring for your everyday use. You can literally wear it anywhere, anytime.
Where to buy: Pandora SHOPEE
5. Pandora Pink Swirl Heart Statement Ring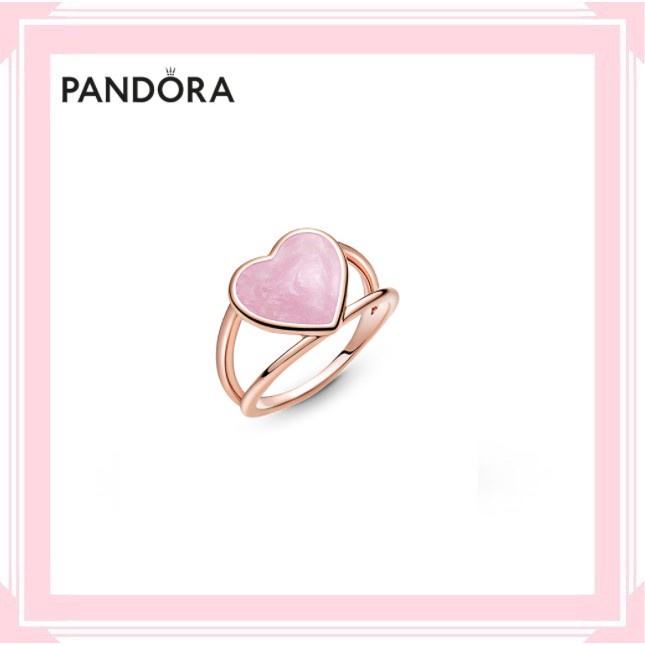 Can we get an aww? Look at this Pink Swirl Heart Ring. Fellas, surprise your girlfriend with this gorgeous piece, and she'll love you for eternity. The eye-catching heart shaped stone literally goes with every style and outfit.
Where to buy: Pandora SHOPEE
6. Pandora Sparkle & Hearts Ring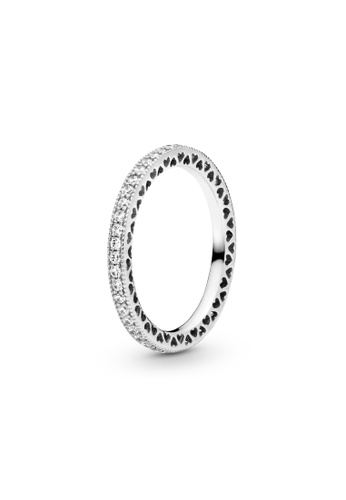 If you're leaning more towards traditional jewels, add this Sparkle and Hearts Ring into your collection ASAP. This ring is perfect to surprise an eldery women like your mom or grandmother. The simple round cut piece coated with sparkly stones and heart-shaped engraved in at the side.
Where to buy: Pandora SHOPEE
7. Pandora Sparkling Daisy Flower Crown Ring
Who doesn't love a good ole fresh flower designs for their jewelry? I know I do. This Sparkling Daisy Flower Crown Ring will look perfect sitting around your finger at an outing session with your girls or a first date. It screams a statement!
Where to buy: Pandora LAZADA
8. Pandora Brilliance 0.50 Carat Ring
Last but not least, this Brilliance 0.50 carat ring is definitely a must have for all you ladies out there. It is one of the brand signature items which consist of 0.5 carat. Though it is not too advisable for the dude to buy this as an engagement ring, you could surprise your lady with this ring as ''the promise ring''. Simple.
Where to buy: Pandora
For more lifestyle related posts make sure to follow us on Instagram and Facebook!