Who here is a veteran online shopping addict? Ahh yes, I see all of you are guilty here. But, how can you resist when there are such cheap and affordable deals going on the internet? Online shopping has truly changed how consumers shop and where they shop. Taobao is one of them. We used to frequent shopping malls and browse through objects and clothing one by one. By the end of the day, most of us would feel exhausted. Sometimes, we'd feel so frustrated shopping and walking around the mall all day that we just get up and leave. But, with the appearance of online shopping platforms in recent years, the game has certainly changed.
Notable mentions are Shopee and Lazada, which are most Malaysians go-to platforms for shopping. Not only are there several cheap deals but there are constant promotions as well. But, the Chinese will know that there is yet another online shopping platform that offers the best deals. Taobao! So how should you shop? Well, here is a guide to Glitz up your wardrobe, kitchen or home essentials!
Taobao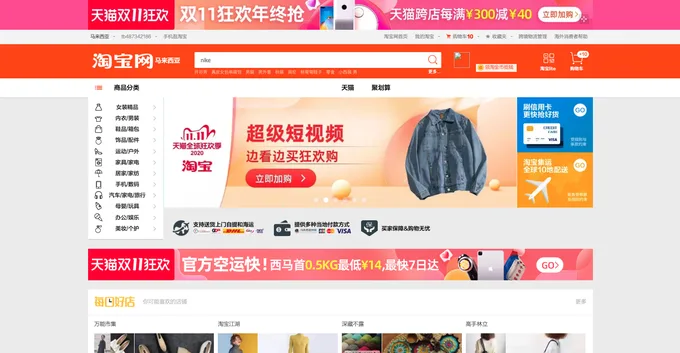 Taobao is a Chinese online shopping platform. Many Chinese frequent this app as it offers a wide variety of everything you need. From plushie pillows, to pots and pans, to even adorable onesies! It is similar to Lazada and Shopee, but most of its items ship from China instead of locally. What's more, is that Taobao operates mostly in Chinese, so you might have to opt to translate the page if you do visit the site. Taobao is owned by Alibaba and has its headquarters in Hangzhou China. The online shopping platform was registered back in 2003 and in 2021, it is ranked as the eighth most visited website.
Taobao Shopping Guide
1. Translate the page
For Chinese users or those fluent in Mandarin, you can skip this step and move on to step 2 immediately. So, for English, Malay, Tamil, or whatever is your native tongue, you first need to translate the page. On your laptop, Google will usually ask if you'd like to translate a page. So just click yes and select your preferred language! If you don't see the option, you can always go into your Google settings and select the option to translate pages.
2. Register an account
This step is pretty straightforward. Whenever you want to shop online, you will always be prompted to sign up with an account first. Taobao offers the option to register in either English or Mandarin. The button to sign up for an account is usually at the top right corner for most pages, but on Taobao, it is on the top left corner. Click on it, and you will be taken to the registration page. All you really need to do is key in your mobile phone number and a verification code will be sent to you. Once you receive the verification code, enter it in the specific box and continue to fill up your details.
3. Fill up all your details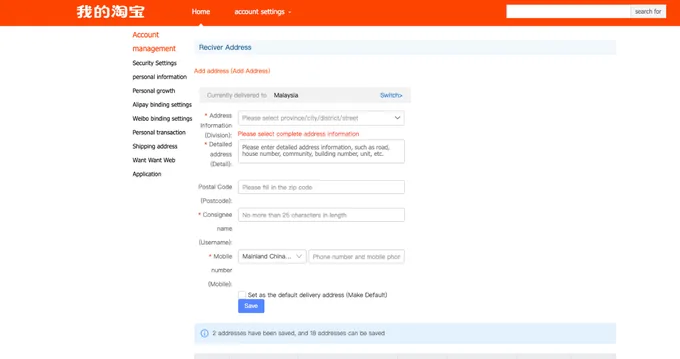 Upon registering for a Taobao account, make sure to fill up all your remaining details. Such as shipping address, billing address, personal information and more. Once you have an account on Taobao, you can start shopping immediately! Your account lets you check up on several things including your privacy settings. Within your account settings, you can also choose to set up your payment method. They offer e-wallet payment methods as well such as Alipay and Weibo.
4. Shop, Shop, Shop
Now, it's time to add everything to your cart! Well, not everything. Don't go splurging on things you don't need. Similar to Lazada and Shopee, Taobao usually has a wide selection of the same products. So, you can definitely browse through all the different prices and find one that suits your budget. Some can be incredibly affordable, while others might come off as too expensive. But when you are shopping, it is best to check out reviews and ratings of the store on Taobao too. This gives you an idea of how reliable that shop is. Sellers on Taobao would want to have a good track record as they are actually awarded ratings from customers as well. So, if a seller is legitimate and doing well, they would have significantly more points. This point system ensures that most of the items you get from Taobao are legitimate and meet expectations.
5. Ways to Shop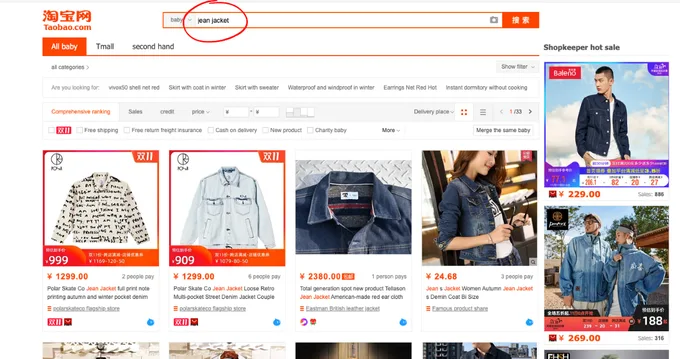 So what is the best way to shop on Taobao? Well, there are up to three ways you can shop for your desired product. The first is to just search up the product name in Mandarin of course. That will give you the most results. If you don't understand Mandarin, fret not! You can search it up in English as well! Taobao will detect it and give you results. Although, there may not be as many as you'd like. The second method is to just google translate what you want.
Although it may not be 100% accurate, it still works great for non-Mandarin speakers. Just pull up Google translate whenever you're shopping, then copy and paste the Mandarin translation to Taobao's search bar! Another unique way to shop on Taobao is to use their image search. All you need is a picture of your item and Taobao will pull up any similar results! If you just want to browse through everything they have, you can always filter by categories.
6. Check Your Cart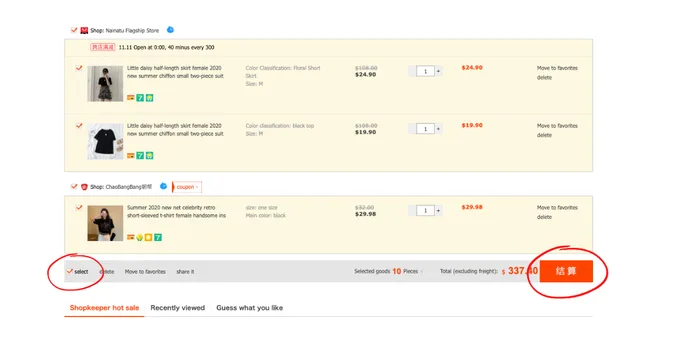 Now that your cart is full, it's time to double-check it. This helps ensure that you have gotten all the right items at the right prices. Sometimes, the names and titles of the product can be confusing, so make sure to check you have the right item. The total will most likely exclude shipping rates and you can easily select all the items you want to purchase with a click of a button. If there are some items you'd rather hold off on, you can deselect them as well.
7. Checkout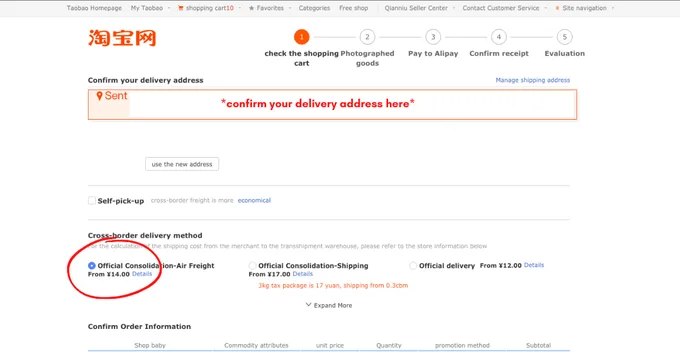 Checkout time! At this point, you only need to pay up for the products to be shipped to you. Of course, you'll need to select your preferred delivery method and select your shipping address. If you've filled it up previously, it should appear for you to select. Now all you have to do is play the waiting game. Once your items reach the Taobao warehouse, you'll most likely receive an SMS update.
Tips For Taobao Newbies
1. Spend considerately
If this is your first time spending on Taobao, we recommend that you spend a little at a time. You don't want to splurge everything you have on your first purchase. Your first time is to test the waters and see if you want to purchase from them again!
2. Self-control
This is probably the hardest, but please have self-control when shopping on Taobao. We know that the affordable prices can be tempting to add everything to your cart. But just remember that the heavier your items are, the more you'll have to pay for shipping!
3. Evaluate sellers
As we've mentioned above, it is always a good idea to evaluate the sellers as well. Read the reviews and check their points. Make sure they are reliable before making a purchase with them.
4. Taobao agents
If you don't want the hassle of shopping yourself, you can opt for Taobao agents on other websites! Sort of like a personal shopper. All you need to do is post your desired product on EZbuy and complete the payment on their site. Easy!