Just got married and planning your honeymoon? Glitz has got you covered as we present to you this list of romantic honeymoon destinations in Malaysia! Even if you didn't just tie the knot, who's to say you can't have a romantic honeymoon for your anniversary? Even if you don't want to go too far for your honeymoon, there are plenty of places in Malaysia you can visit. But, if you are visiting Malaysia for your honeymoon, we've got some of the best hotels you can stay at. Guaranteeing a romantic getaway for you and your partner. Whether you want somewhere chilly or to bathe under a sunny paradise, we've got something for everyone! So, will it be the glitz and glamour of 5-star hotels or authentic experiences of beachy chalets?
12 Romantic Honeymoon Destinations in Malaysia
1. St. Regis Langkawi
While you indulge yourself in luxury at St. Regis Langkawi, you can also admire this 5-star hotel's majestic architecture and exquisite details. So, to ensure a romantic honeymoon destination in Malaysia, escape into the calm Andaman Sea and centuries-old rainforest. Besides that, this luxury retreat offers over-water villas and elegant suites fit for a spectacular honeymoon. At St. Regis Langkawi, experience a gastronomy journey unlike any other. So, be prepared to hop through 6 different restaurants and bars that will pique your senses.
Location
2. Desaru Coast Resort & Villas
Are you searching for a serene and romantic honeymoon destination on the shores of Malaysia? Then, visit Desaru Coast Resort & Villas for luxury accommodations tucked in a tropical garden. Moreover, overlooking the ocean, lagoon and gardens are the many stand-alone villas and low-rise buildings. Desaru Coast Resort & Villas also features residences with a full kitchen, infinity pool, butler and chef services for families or groups.
Location
3. Kudat Riviera
Time to get off the west coast and head on over to the east to spend your romantic honeymoon at Kudat Riviera! With a luxury villa estate at your service, Kudat Riviera is also surrounded by natural environments and treasures. Since it is secluded away from the rest of the world, enjoy the 6 kilometre stretch of private pristine and coral-fringed coastline. Therefore, this exclusive villa is the perfect destination to live out your romantic honeymoon ideas.
Location
4. Cameron Highlands
Not a fan of the beach? Head on up to Cameron Highland instead to enjoy the chilly weather. Since it is one of the best destinations for a romantic honeymoon in Malaysia, it offers charm like no other place. When you stay at the Cameron Highlands Resort, you get to unwind and relax with your partner. Therefore, choose to relax with an elegant high-tea, explore the colonial grounds, or indulge yourselves in the spa facilities.
Location
5. Glamz at Genting
Genting is the best place to go for a romantic honeymoon. Instead of staying at one of the Genting hotels, stay at this glamping spot instead! Furthermore, Glamz at Genting allows you the opportunity of falling asleep under the stars. You can find this aesthetically pleasing lodge fitted at the cool foothills of Genting. You can also get to xperience laid-back glamping that offers what many don't. A private jacuzzi! So, say goodbye to sleeping bags or bugs crawling on your skin, because it is time to camp in luxury and style.
Location
6. Mulu, Sarawak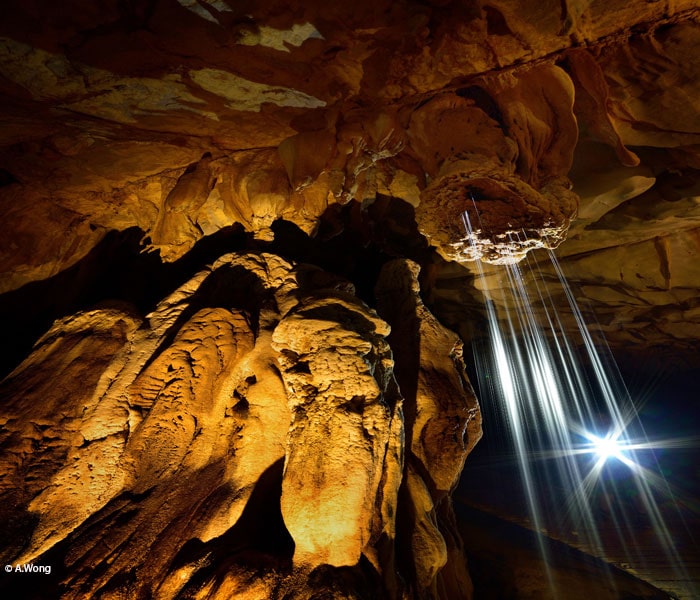 For newlyweds or couples seeking some thrill, plan your romantic honeymoon at Mulu, Sarawak. So, this is definitely something unique as you'll get to explore Gunung Mulu National Park. Besides that, it is also a rainforest area known for The Pinnacles, limestone cliffs and caves. It is also a protected area. Getting here is no easy feat either. You'll need at least 3 days. So be sure to plan ahead!
Location
7. Sipadan-Mabul Islands, Sabah
If you are still looking for that beach experience, visit the various islands surrounding Sabah. The Sipadan-Mabul islands will offer a non-cliche experience as it features emerald water, soft white sand and coconut trees. Therefore, this island is hidden away from prying eyes and makes for a great romantic honeymoon destination. Because there is a lack of tourists visiting, it offers much-needed privacy. Thus, making your honeymoon one of a kind!
Location
8. The Haven Resort
Surrounded by limestone hills, natural forestry, and home-grown uniqueness, find a haven at this resort in Ipoh! Located at the outskirts of the city, you can find tranquility, peace, and all the time for romance at The Haven Resort! This is perfect for those who prefer a honeymoon destination that's surrounded by nature, but can keep themselves busy with fun activities and full of an array of food to indulge in!
Location
9. Lexis Hibiscus Port Dickinson
Another must-visit for every couple's bucket list is an extravagant stay at the Lexis Hibiscus Port Dickinson! This ideal honeymoon destination is one of the best in Malaysia for its stunning beach views and sunsets, spacious villas, indoor and outdoor activities, and fun attractions. The seaside township is only an hour away from Kuala Lumpur, so this is quite accessible while feeling like you've transported yourself in a luxurious destination!
Location
10. Club Med Cherating Beach
One of the best romantic honeymoon destinations in Malaysia is the exclusive Cherating Beach located at Kuantan. Couples can find themselves surrounded by lush forests while still being near the beach. In addition, since this is an all-inclusive island, it's ideal if you prefer fewer people away from the busy city life and large crowds. Enjoy a private pool, immerse yourself in nature, and find your own adventure!
Location
11. Tanjung Aru Resort & Spa, Kota Kinalabu
Land in paradise after the wedding! Shangri-la's Tanjung Aru is a gorgeous retreat slash romantic getaway to enjoy tranquility while surrounded by coral islands and palm trees. Enjoy scenic views, natural wonders, rugged landscapes, and breath-taking sunsets and sunrises. Transport yourself in a dream-like holiday where you can soak at the Sunset Bar, wind down at the Coco-Joe's Bar & Grill, and pamper yourself at the Chi the Spa.
Location
12. The Banjaran Hotsprings Retreat
A unique, but relaxing experience like no other – visit the Banjaran Hotsprings Retreat! If you a different experience or view, this resort is nestled in the center of an acre valley and millions-year old limestone hills. At this romantic destination, you can submerge into their geothermal natural hotsprings to relax your whole body and stay in exclusive villas near the lake. It's the perfect destination to recharge and rejuvenate yourselves while being one with nature!
Location
For more lifestyle info and recommendations, make sure to follow us on Instagram and Facebook! Also, check out our Insider Mall to Shop & Get Rewarded!