Looking for a place to stay in the heart of KL this weekend? Well, you're in luck, because Glitz is here to show you a good time! We have curated a list of the best 5-star hotels in KL where you can book your next staycation with all of the best facilities to suit each and every one of your family's needs. Whether you are planning a me-time staycation, anniversary getaway or a surprise birthday bash, here are all the recommended 5-star hotels you can explore. Don't miss out on all the promotions and discounts going on right now to get your dream staycation at an affordable cost!
Recommended 5-Star Hotels in KL
1. Mandarin Oriental Kuala Lumpur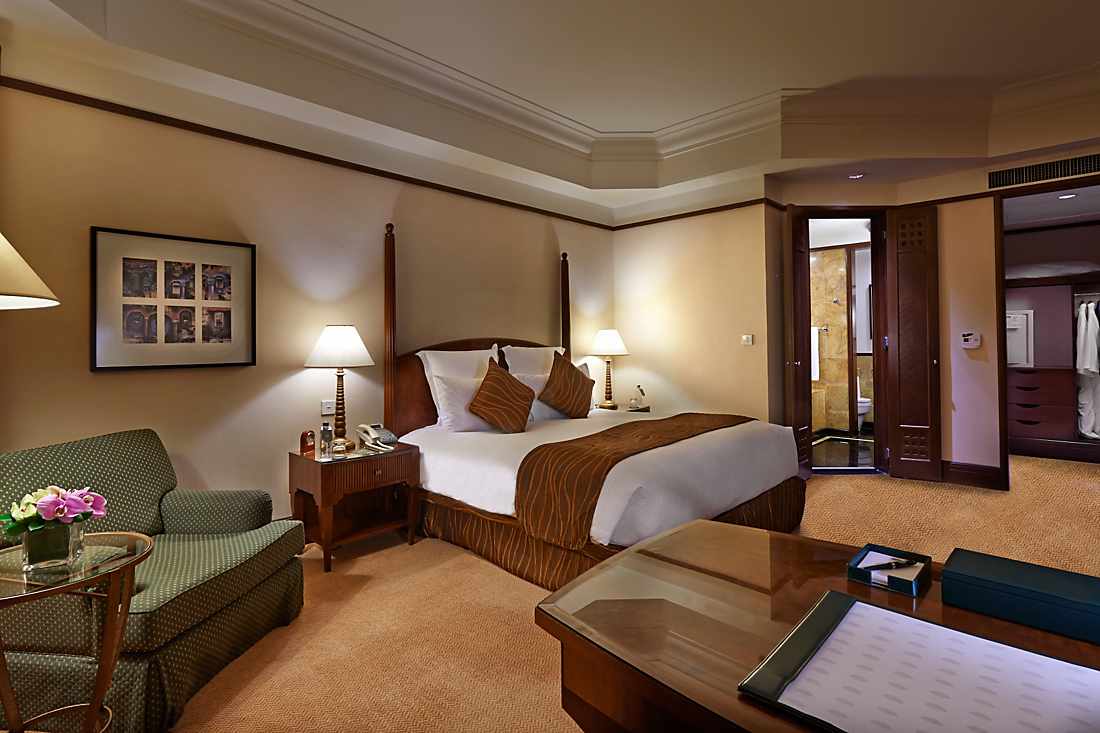 With a name such as the Mandarin Oriental Kuala Lumpur, guests might expect a traditional, Asian-looking atmosphere. But, we are here to tell you that there is nothing traditional about the Mandarin Oriental Kuala Lumpur. Transport yourself into the mindset of a Crazy Rich Asian as you step into this 5-star hotel nestled in the heart of Kuala Lumpur. Luxury is the only thing that comes to mind when you are staying at this 5-star hotel and offers an impressive view as well. Aside from spacious rooms, they also offer a wealthy selection of fine dining.
Location:
2. InterContinental Kuala Lumpur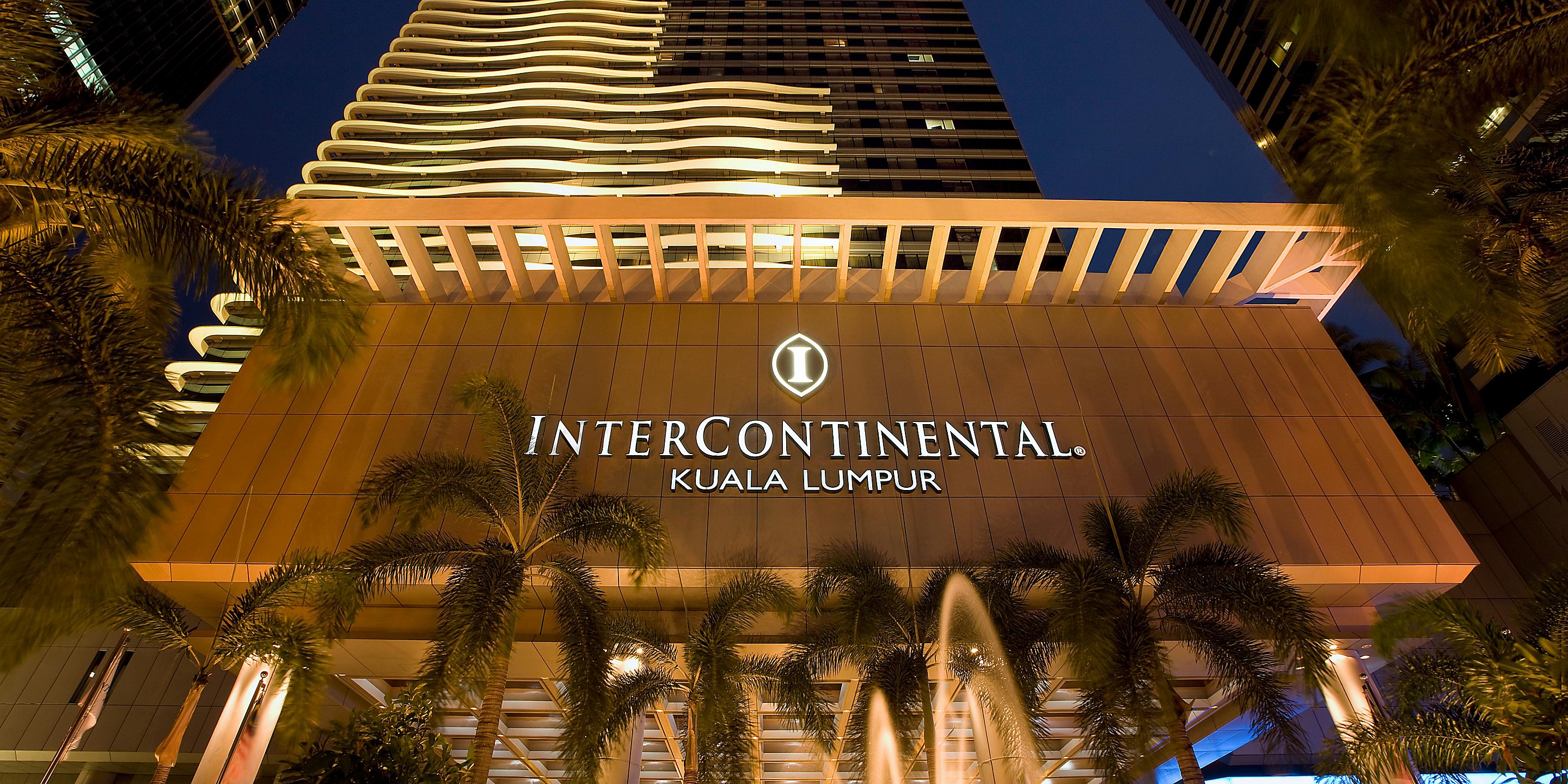 Aside from elegantly furnished hotel rooms, InterContinental Kuala Lumpur is the perfect getaway for the weekend. Not only are the rooms spacious, but they all come with premium bedding, comfy beds and cosy pillows to cuddle with. Thus, it is the perfect place to keep yourself in bed at all times. Furthermore, you can also enjoy their English Afternoon Tea, cocktails in the evening and breakfast in the morning!
Location:
3. Shangri-La Hotel Kuala Lumpur
You may be familiar with the name Shangri-La Hotel Kuala Lumpur because it is widespread. Their main goal is to offer you a luxurious experience to elevate your stay at this 5-star hotel. No matter who you are or where you are in the hotel, it promises to deliver a pampered experience. Their outdoor pool is a sight to see as it features a view of highrises, alongside greenery. Hungry after a swim? Either stuff yourself with their seafood buffet, or enjoy a calming afternoon tea sesh.
4. Grand Millennium Hotel Kuala Lumpur
Now, don't confuse Grand Millennium Hotel Kuala Lumpur with the Millennium Falcon from Star Wars. We will not be responsible if you show up at this 5-star hotel in KL expecting Han Solo! Chewbacca will definitely not be making an appearance anytime soon as well. This 5-star hotel in KL is the definition of glamour and glitz. Its location is also top tier as it is located in Bukit Bintang C, with neighbours such as Fahrenheit 88, Starhill and Pavilion KL. Within walking distance is also the Bukit Bintang Monorail station! So, it's an easy trip to explore the city.
Location:
5. Traders Hotel Kuala Lumpur
One of the best 5-star hotels located in the heart of KL is Traders Hotel Kuala Lumpur. Sitting opposite of Suria KLCC, it is the perfect 5-star hotel to be at if you want to treat yourself to a shopping trip. As well as being under Shangri-La, Traders Hotel has a magnificent view of the Petronas Twin Towers. Featuring the perfect amenities as well for those that might be here on a business trip. This 5-star hotel in KL offers free Wi-Fi, 5 on-site meeting rooms, and secretarial services. Furthermore, right in front of Traders hotel sits KLCC Park, perfect for those that want to keep up with their fitness activities. Whether it's a pool, sauna, gym or spa, this 5-star hotel has it all.
Location:
6. The Majestic Hotel
Divided into two buildings, The Majestic Hotel is a 5-star stay in KL that is truly iconic in Malaysia. Being differentiated as the Tower and Majestic Wing, the spot the hotel is built on has been a hotspot even before WWII. Even today, it holds up to its majestic charisma that screams colonial. Its interior is lined with Roman columns, high ceilings, vintage lamps and a gold-leaf domed roof. Featuring polished marble floors, and intricate cornices, you can also view the gorgeous chandeliers dangling from the ceiling. Furthermore, all of their rooms contain 4 poster beds, magazines, toiletries, and a fully stocked minibar.
Location:
7. Grand Hyatt Kuala Lumpur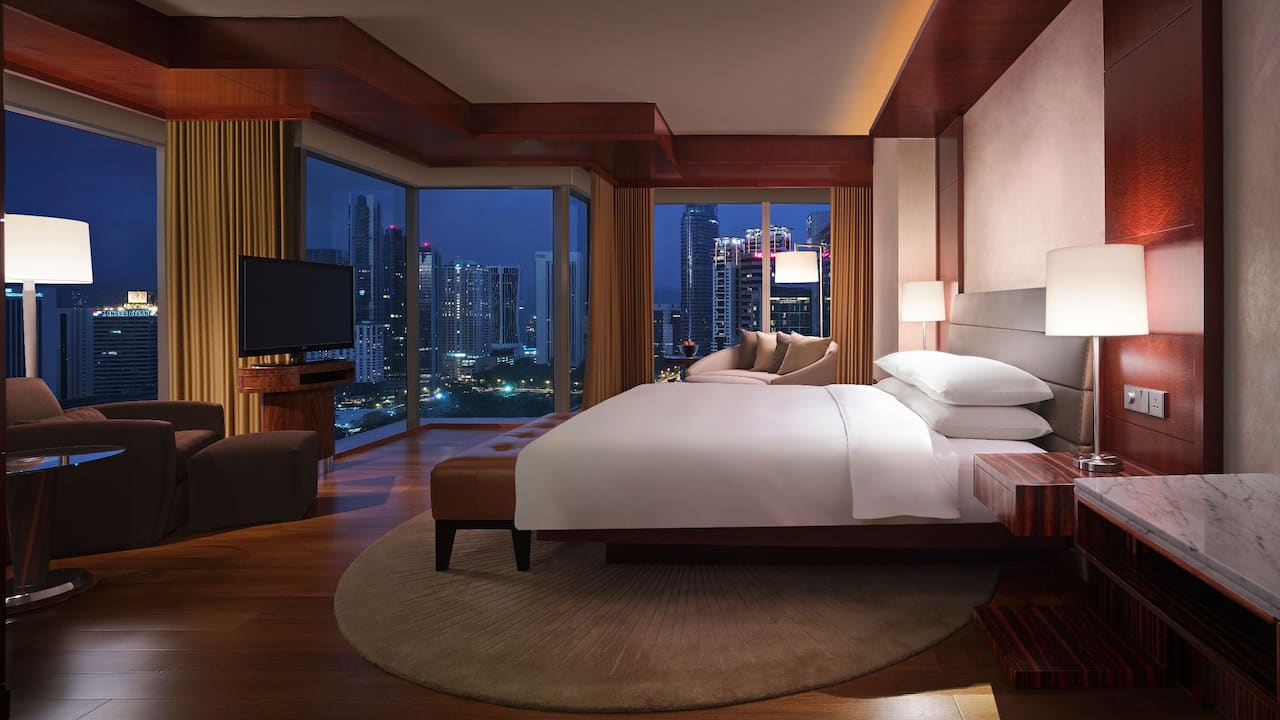 If you are a seeker of the finer things in life, then turn your attention to the Grand Hyatt Kuala Lumpur! It sits comfortably within the Golden Trio – KLCC Park, Petronas Twin Towers and KLCC itself. What's more, is that this 5-star hotel in KL also has a connecting sky-bridge that connects to Pavilion KL. Offering a wide range of amenities, Grand Hyatt Kuala Lumpur also has a 24-hour gym and the Essa Spa which has an ice fountain room, sauna, and jacuzzi.
Location:
8. The Face Suites Kuala Lumpur
Relax and keep yourself in the heart of KL with a stay at The Face Suites Kuala Lumpur. Smack dabbed in the middle of KL, this 5-star hotel puts you 5 minutes away from both Pavilion KL and KLCC. Don't feel like doing your laundry during your staycation? Don't worry because The Face Suites Kuala Lumpur offers laundry services and dry cleaning. What's more, is that they offer free self-parking and have a 24-hour front desk for all your needs. Even if you arrive earlier than your check-in is scheduled, you can still explore the city without carrying your hefty luggage around as they have luggage storage as well.
Location:
9. Hilton Kuala Lumpur
Located in the centre of KL's transport hub, Hilton Kuala Lumpur sits atop KL Sentral. Climbing at 35-storeys tall, it is one of the most well-known 5-star hotels in Malaysia. Along with amazing services in tip-top shape, it is also timeless and classic. Whatever you need, Hilton Kuala Lumpur is sure to have it all. Whether it's an event, meeting, conference, or leisure activity. Furthermore, it wouldn't be a 5-star hotel with an in-house artist to curate a rotating collection of steel and wood artwork right? Infantino Fernandes is the local artist that helps give Hilton the charm it needs to attract all its guests.
Location:
10. Royale Chulan Kuala Lumpur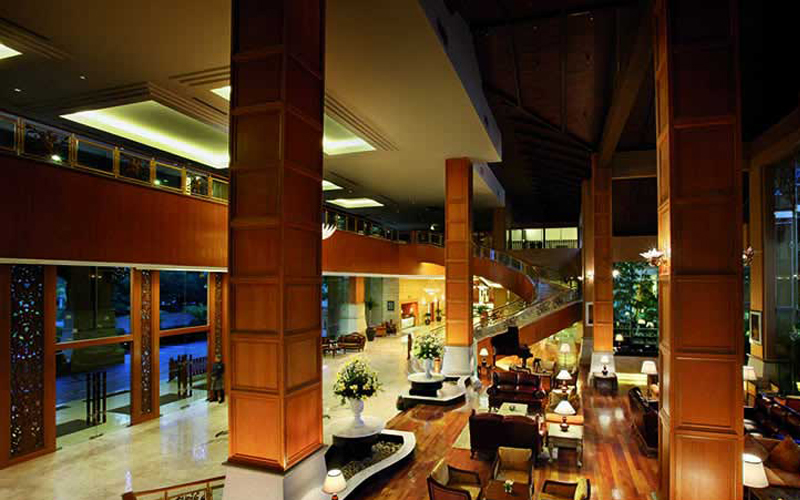 Get ready to be treated like a royal…Malaysian style! The Royale Chulan Kuala Lumpur offers an experience like no other. Focusing on delivering Malaysian hospitality, they blend together the unique culture of Malaysia with modern luxury. Thus, the rooms at the Royale Chulan Kuala Lumpur are furnished with our Asian roots in mind. From custom-made beds, to textiles, carved wood and ceramics. Perfect for a family getaway not too far from home. A true staycation, at one of the best 5-star hotels.
Location:
11. The St. Regis Kuala Lumpur
The St. Regis Kuala Lumpur is a strategically located 5-star hotel in KL. Sitting at KL Sentral, the hotel overlooks the KL city skyline and the Lake Gardens. Nearby, family-friendly activities are available such as the KL Bird and Butterfly Park. This can also be a great date idea seeing that it is situated so closely to this brilliant hotel. Fun fact, the St. Regis Kuala Lumpur is actually known for featuring the "largest standard guest rooms in KL". What's more, is that all of their rooms also feature walk-in wardrobes, large seating areas and floor-to-ceiling windows. It truly is the epitome of luxury! If you want to splurge a little for special occasions, you can even get a speciality suite. Which will feature his-and-hers bathrooms, along with an in-room massage room.
Location:
12. The RuMa Hotel & Residences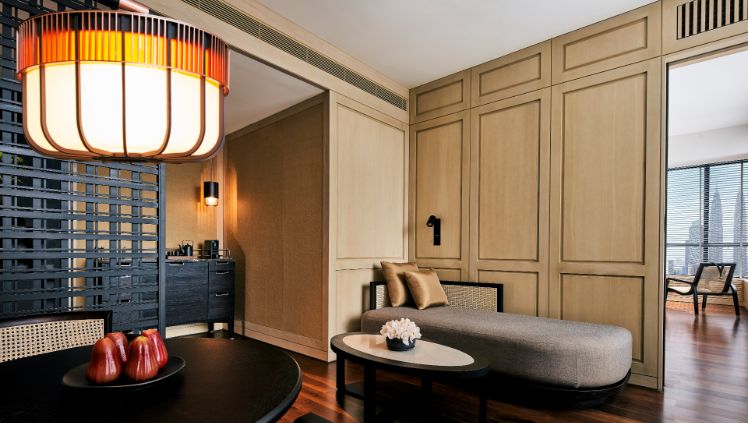 Afraid you'll feel homesick while in the heart of KL? Book your stay at The RuMa Hotel & Residences for a cosy experience! This 5-star hotel in KL truly makes you feel like you're in your own "rumah". Furthermore, it has also been voted in The World by Fodor's Travel 2020 Top 100 Most Incredible Hotels. Proving that it is the perfect sanctuary for everyone in the bustling city of Kuala Lumpur. Relax in their many luxurious suites and soak in their bathtub to wash away all your stress.
Location:
13. The Westin Kuala Lumpur
Offering top-notch services, The Westin Kuala Lumpur is one of the 5-star hotels you cannot miss. Featuring over 10 types of rooms, this hotel in KL even has up t o63 serviced apartments on its lower floors. What's more, no matter which floors you are on, you can definitely peek out and see Pavilion KL and even the city centre! If you want a truly relaxing experience, visit their rooftop pool that magically includes a fountain. Aside from that, you'll also be treated to complimentary poolside popsicles! If you want to keep fit even during a staycation, there is a fitness studio that offers workout classes daily as well. If you're with your family, don't worry. The Westin Kuala Lumpur is kid-friendly too! The Westin Kids Club is a fun place for kids to play while the adults mingle.
Location:
14. Saujana Hotel
Saujana Hotel is a gorgeous tropical 5-star hotel just 4 minutes away from Citta Mall. The hotel's name, Saujana, is also derived from "sejauh disana", a Malay phrase meaning "as far as the eye can see". This 5-star hotel in KL is located with lush gardens and tropical forests with stunning lakeside views to pair. Choose from their many spacious and contemporary rooms. For a gorgeous view of the grounds of the resort, stay in their Terrace Rooms located on the ground floor!
Location:
15. EQ Kuala Lumpur
After going through quite the rebuild a few years earlier, EQ returns with a bang! Entering a new era of luxury and excellence, EQ is a 5-star hotel in KL that offers exceptional hospitality. Among a skyline of skyscrapers, EQ is a distinct 52-storey building that attracts attention. At night, you'll get to witness its mosaic panels and steel strips that light up beautifully. Its interior is also the epitome of elegance with rose gold detailings that instil a feeling of cosy opulence. Enjoy yourself when you spend a day at their many state-of-the-art facilities.
Location: